Telephone conversation with President of Belarus Alexander Lukashenko
During the con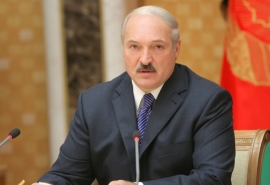 versation Nursultan Nazarbayev and Alexander Lukashenko have discussed the most topical issues of bilateral cooperation.
The Heads of State exchanged views on current activities and further development of the Eurasian Economic Union.
The two leaders also gave consideration to the schedule of upcoming meetings. In particular, the President of Kazakhstan has invited Belarus to take part in the upcoming summit of the Shanghai Cooperation Organization and the opening of the international exhibition EXPO-2017 in Astana.
21 February 2017
The Security Council Session chaired by the Head of State
Opening the meeting Nursultan Nazarbayev, on behalf of the people of Kazakhstan and on his own behalf, expressed condolences to relatives of 7 soldiers killed during military exercises.
– I took with deep sorrow the sad news of the tragic event in Zhambyl region, which occurred as a result of avalanches. Each of them discharged his military duty to the death, as a true patriot of his country. The Defense Ministry is assigned to provide all-round assistance and support to all the families of the dead soldiers. The State Commission is engaged in clarifying the incident's causes. We will take all necessary measures for such tragedies not to happen in the future, the President of Kazakhstan said.
The agenda included the following issues:
– Results of implementing Kazakhstan's National Security Strategy for 2012-2016 and the presentation of the Strategy's key approaches for the next period;
– Some aspects of military-technical policy;
– Public safety during preparation and holding of "EXPO – 2017" international exhibition.
The Head of State noted that over the past period, thanks to the efforts of the competent national authorities external security and political stability were secured in Kazakhstan.
– In the face of the global economic crisis and the domestic economy difficulties, we have succeeded to maintain the macroeconomic indicators at the manageable level. The analysis of local, regional and global processes highlighted the most likely risks and national security challenges for the coming period. Currently the country discussed the goals and objectives outlined in the Address to the Nation, the proposed political and constitutional reforms, which, as a whole, find support among the population of the republic, Nursultan Nazarbayev said.
Also the President of Kazakhstan has brought into focus the paramount task of extremist and terrorist acts resistance, the manifestation threat of which holds sway.
– Response measures of the appropriate structures are provided for each of the pointed out activities in the new Strategy, Nursultan Nazarbayev concluded.
In addition, the Head of State had a number of tasks for the state bodies to ensure national security in other areas and directions.