Kazakhstan President Nursultan Nazarbayev on recently passed The 8-th Astana Economic Forum in Astana put out a new initiative.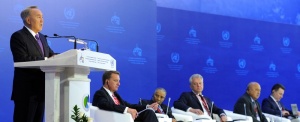 The Head of the State proposed to create "An  Eurasian transcontinental corridor" high speedy multimedia transport route  throughout the country for uninterrupted cargo transport from Asia into Europe and back. The way is shorter than through the ocean. The main thing is that the way will give an impulse to the development of Kazakhstan production.
This initiative of the Head of the state  was based on the experience of opening of Kazakhstan logistic terminal in Yellow Sea,  in China. The joint logistic terminal in China will let to transport 250 thousand container units in 2015 and twice  increase in 2o20.
   Laura Anuar