In connection with the" Woman's Day 
or 8-th  of March we've interviewed today Gulmira Shalabayeva, a Honored  Specialist of  Culture, Professor, Doctor of philosophy and Abylkhan Kasteyev Museum of Art General Director.
Dear Gulmira Kenzhebolatovna!
On March 5, 2015 the exhibition "National Games – Intangible Heritage of the People" was opened at the A. Kasteyev Museum of Art. As we learned, the exhibition was organized in the framework of the UNESCO 70th Anniversary.   
– Why the National games became the subject of the exhibition? Did you have any certain criteria?  
   Every nation has its own view on the world, that is based on the ethnicity, or own me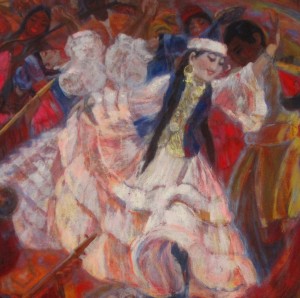 ntality, the type of culture, that we can very clear observe in the national games and practices. The
national games and practices are the spirit and soul, the heritage and culture of any kind of nation. At the present time, UNESCO is supporting the idea of cultural variety. Over the last few years UNESCO promoted the safeguarding of intangible cultural heritage. Moreover, in 2015 UNESCO in considering the opportunity to include the Kazakh horse riding game Kokpar in the List of World Intangible Heritage.  This is a cause of current exhibition. Together with Baige, Kyz Kuu and others, this game is an integral part of the Kazakh traditional culture and it very popular till now. In general when we are talking about Kazakh games we need to remember that life in the steppe and its nomadic style had a great influence on Kazakh culture, literature, art and folklore.    
– The artists of what styles have painted these Kazakh horse riding games?  How realistic they were? Could we refer them to the masterpieces of the World art?
Many Kazakh artists liked Kazakh horse riding games, including such outstanding artists as K. Telzhanov, E. Sidorkin, S. Aitbayev, A. Sadykhanov, T. Togyzbayev, and others. They are representatives of the academic, classical style of art and their works were created in realistic style. You can look at their works in our exhibition. These paintings show the games, national fests and nomadic riding to dzhailau. During all our holidays Kazakhs practiced national games,  songs, aityses and horse races. Aitys – the ab-lib folk-singers contests are shown on the paintings of A. Sadykhanov "Aitys", 1969, A.Guriyev "Akyn", 1967, V. Kolodenko "Aitys".  The images of ab-lib folk-singers are very realistic in these paintings.   
All other games like audaryspak, baige, kokpar, kyz kuu and others were also widely painted by the artists. These paintings demonstrate dexterity and courage, skills and inventiveness, and the passion of the sport competition. While creating the national games images, the artists were trying to show the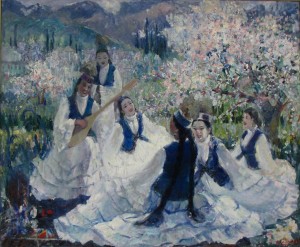 emotional glow of the participants, dynamic and speed of the game like in  picturesque paintings "The Race" by K.Telzhanov,"Kokpar" by E. Tulepbayev, "Dzhigits by K. Shayakhmetov and others.  Genius artists E. Sidorkin has created a series of engravings   "Kazakh games" in 1969. All these engravings are very expressive in regard to plastique, especially circled composition "Kokpar". All of them are bright, strong and innovative. Yes, all these artworks we can call the world masterpieces, and not only them, but other artworks in this exhibition. To be sure in this, you need just visit it.
     This year we will celebrate the Museum's 80-th Anniversary. The Museum is one of the oldest and unique in the country, and we promote the talented Kazakh artists, and trying the best to ensure that as much as possible visitors could esthetically enjoy our artworks and Kazakhstan's art as well. Over more than 50 years we have been doing the titanic work, but we don't rest on our glory. We continue the Museum's development, increase our holdings, conduct a variety of exhibitions and strengthen our international cultural contacts. We are looking into future with optimism.   you say about the Museum's holding? Is it big, toExcept of paintings and sculptures, the treasury of our national art includes the collection of Kazakh applied art of XIX – XX centuries. This collection has a huge variety of ornamental felt, traditional weaving, embroidery, matting, metal, wood, bones and leather artworks. At the present time we have more than 24,000 art objects and we keep them according to all modern museums' rules. The Museum specialists not only keep them, but also restore them if it is necessary, clean them of dust and dirty, describe them and catalogize. In  general we have 8 galleries, 11 exhibition halls, and separate Central Exhibition Hall that is located on Zheltoksan Street. The majority of these halls we use for permanent collection, for example Kasteyev Hall, the European and Russian Halls, but Central Exhibition Hall on Zheltoksan Street is always devoted to the temporary exhibition projects. We conduct the temporary exhibitions in our Museum so our visitors could have a chance to watch our other artworks from our holding. For examp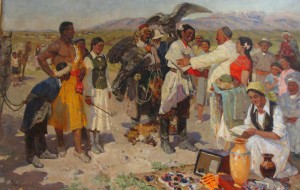 le we have a very popular exhibition "From Durer to Daumier –  engravings of Western Europe". This exhibition had a very good feedback and our media outlets wrote a lot about it. The same we can say about the "Labor is the goal, idea, life" exhibition. It demonstrated the socialist realism paintings by local outstanding artists. It became very interesting and beautiful, and one expert during the roundtable, devoted to this exhibition, suggested to name this art style as a romantic realism. We extended this exhibition twice due to our customers' requests.   
– How do you manage to keep the paintings in such good condition and beautiful frames?
Many people astonish, but in spite of solid ages many paintings look like as the artist just finished them. This is a merit of our Restoration Center. The restoration artists work in the center and they restore the oil paintings, applied artworks and sculptures. Their permanent duties together with the keepers are to observe the artwork in holding and exposition. As a result they determine the artworks that need a restoration. The center has a special computer system for design and maintaining the documentation, including the system of recording and keeping the images.  Each artwork got a restoration passport, "the history of illness" that listed all necessary interventions with taking photo before, during and after the restoration. We can restore any artwork of any technique. The goal of restoration specialists is to slow the ageing processes and eliminate all damages.  In general our Restoration Center renews about 200 artworks annually. The work of the Restoration Center is based on restoration strong ethical rules observation, the principle of less possible intervention into historical and physical structur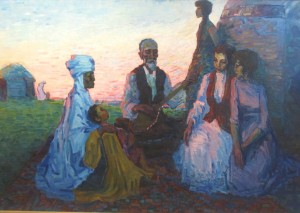 e of the art object. 
And now a little bit personal.  
    Your joining the Museum in November of 2014 wasn't on a sudden.  Because you are not only creative person, awarded with governmental and international awards, honored titles but also a talented scientist, the author of more than 50 publications, including your monograph "E. Sidorkin. Anthology of the creative method", "Eurasia through the art of Kazakhstan" and others, including 432 paged "Encyclopedia of Art". In Encyclopedia you collected and systemized not only the theory and history of art data, but also data of allied sciences.
 First time you introduced the information reflected the Kazakhstan's specific. 
– How do you manage to combine scientific researches with creativity and everyday work, while looking so well, charming and young?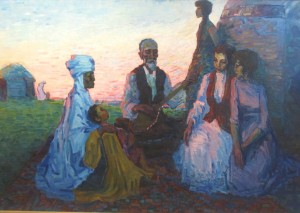 We have such expression: "Find the job that you like very much and you will not work any day". This is the secret, or le secret de Polichinelle.  When you are doing the business you love, you don't consider the time, the weather or changes of your mood. You just live your job. As much assignments and duties your have, as much you can implement. The most important to rationally plan your time and nothing should stay without your attention. Regarding the youth -there is an aura of beauty around me, because art was always a source of inspiration, love, and esthetical pleasure for me – all that keeps our interest to live and extended our youth. Genetic is also very important. You have to know my mom – Lyaliza Aimasheva – one of the first speaker of Kazakh TV and you will have no questions. Healthy Life Style and cosmetics also provide the people with the opportunity to keep your youth and working capacity for many years… 
This February many political parties and public movements supported the Initiative by the Assembly of People Kazakhstan to conduct pre-term Presidential Elections.  
You also supported this initiative and as a head of the governmental organization are ready to participate in the elections. 
– Are you going to join the Central Election Committee to work with the electorate to support the President of Kazakhstan candidacy?
    I didn't have such planes, as well as the offers to work there. But I certainly know that I and all members of my family will mandatory participate in the elections and we will vote for current President – Nursultan Nazarbayev.
   We have just few days before the 8th of March celebration. For many people it is a holiday of Spring, when the cherr
y garden is blossoming like in Anton Chekhov's play or paintings Joyful Day or Kazakhstan's Song by artist Aisha Galymbayeva.
What would you like to wish the women at this time?
First of all I wish the peaceful heaven and bright sun above us, the clean and fresh air, flowers and joy. I wish that our children and grandchildren live in prosper, developed and rich country, live and strengthen in health, happiness and harmony. I wish that all plans and hope will be implemented, and peace, support and mutual understanding prevail in the families.
Interviewed by Laura Anuar.